Sales development representatives (SDRs) are essential for identifying new leads, nurturing relationships, and closing deals in B2B Sales. Identifying and qualifying potential prospects involves a lot of research, outreach, and follow-up. This can quickly become overwhelming without the right SDR tools. 
Fortunately, there are a variety of such tools available that can help you streamline your prospecting efforts, automate your outreach tasks, and gain valuable insights into your sales performance.
In this blog, we'll take a closer look at 10 of the best SDR tools. Whether you're just starting out as an SDR or looking to take your prospecting to the next level, these tools are essential for boosting your productivity and driving more sales for your organization.
Why are SDR tools essential?
Better Tracking and Analytics
SDR tools can track and analyze key metrics such as open rates, response rates, and conversion rates, providing valuable insights into what works and what doesn't, and enabling sales teams to make data-driven decisions.
Sales tools increase efficiency
According to a Forbes report, an average SDR devotes approximately 65% of their time to non-sales-related activities. This implies that for every $100 in revenue, a B2B SaaS firm spends $65 per representative on non-revenue generating tasks. This is where these tools can help. They can automate these non-revenue activities, allowing you to concentrate on what is most important – selling.
Personalization on a Large Scale
Sending personalized messages to prospects can be a daunting task if it is done manually. These SDR tools can automate the majority of these tasks (as previously mentioned). Automation enables you to scale your personalized outreach.
Qualified Lead Generation
According to 85% of top sales executives, sales tools are critical for achieving sales growth within their organizations. This is because they assist sales teams in generating qualified leads that are relevant to the business. This implies that you can concentrate on high-quality prospects rather than those that are irrelevant.
Suggested Read: Top 8 Outbound Sales Tools you need [with the 3 Best Techniques]
Top 10 SDR tools to boost your productivity.
Let's quickly dive into the SDR tools that you need to level up your prospecting game.
Prospecting Tools
LinkedIn Sales Navigator
Prospecting, according to 42% of sales professionals, is the hardest aspect of their work. The rest of the professionals claim that it is closing (36%), or qualifying (22%).
With the help of the application LinkedIn Sales Navigator, users can search through LinkedIn's extensive collection of professional profiles and use them for prospecting purposes.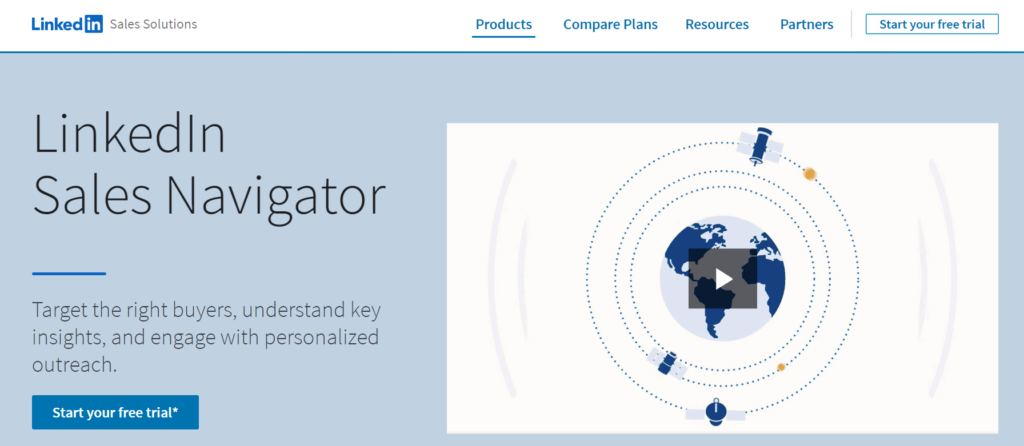 Users of this tool have access to a variety of search and filter options to target the leads they're looking for. The platform can be a good starting point for social selling and lead generation because it enables users to locate the best leads with whom to build relationships, even though it doesn't allow users to retrieve their leads' contact information.
Pricing– Free Trial available
Use case scenario–
Search for potential leads based on a variety of criteria, such as job title, industry, and company size.
You can also use the platform to research your prospects and their companies to understand their needs and pain points and tailor your outreach accordingly.
Once you have identified potential prospects, you can use the platform to engage with them through LinkedIn's messaging system, and track your interactions with them in Sales Navigator.
You can also export their contact information to use in outreach campaigns.
Zoominfo
With precise, real-time analytics on buyer intent, ZoomInfo gives you access to detailed business contact details about your target market. You can use this information to increase the amount and caliber of your sales leads.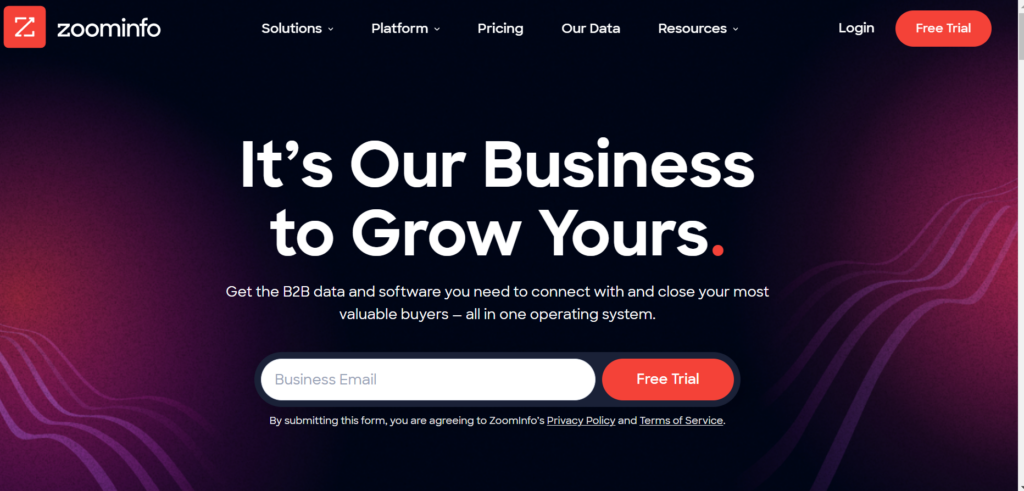 On a more sophisticated level, ZoomInfo provides advanced sales intelligence features like CRM integration, data capturing, market information, and sourcing precise buyer intent data. Also, ZoomInfo offers a sizable B2B database with the business contact information of 130 million users.
Pricing– To be requested
Use case scenario- Imagine you're an SDR for a software company that sells marketing automation software to mid-sized and large businesses. You are tasked with finding new prospects and leads to expanding your customer base.
With ZoomInfo, you can search for companies that fit your target market based on criteria such as industry, company size, and location.
You can also search for decision-makers within those companies based on their job titles, seniority level, and other criteria.
Using ZoomInfo's advanced search and filtering options, you can quickly identify potential leads that match your ideal customer profile.
You can also access detailed information on these leads, such as their contact information, job responsibilities, and recent company news.
Once you have identified potential leads using ZoomInfo, you can use the platform to build targeted lists and export contact information for use in your outreach efforts.
This is how ZoomInfo can help you with your prospecting efforts.
CRM software
Salesforce
Salesforce is a cloud-based platform that assists companies in managing interactions with clients, partners, and other stakeholders. An estimated 3.75 million people utilize this platform. Such a large user base produces massive data points!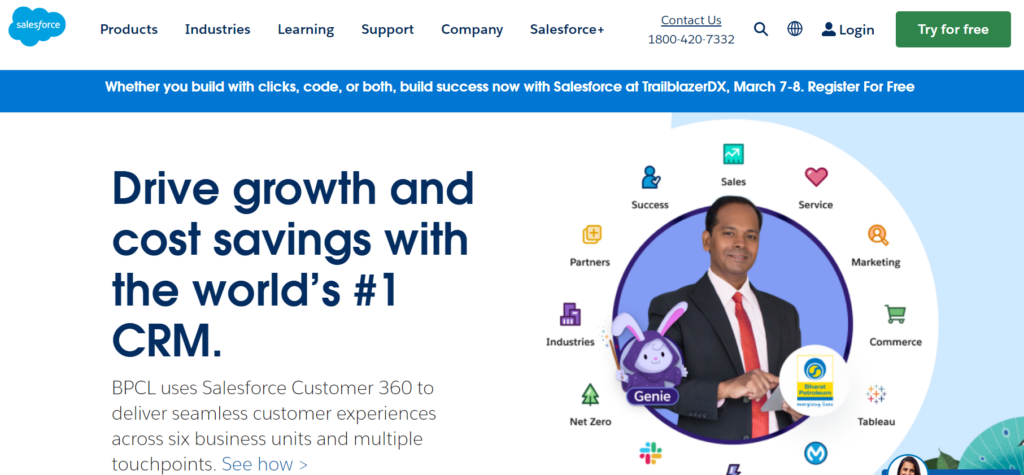 Salesforce enables companies to track client contacts, manage their sales pipeline, and automate sales and marketing procedures.
Pricing– Free Trial available
Use case scenario–
Log and track your outreach efforts, assign leads to account executives, and monitor the progress of each lead through the sales process.
You can also use the platform to segment your leads based on various criteria such as location, industry, and lead source.
Additionally, Salesforce provides analytics tools to help you identify areas for improvement in your prospecting efforts, such as which outreach methods are most effective, and which leads are most likely to convert.
HubSpot
HubSpot is a powerful customer relationship management (CRM) platform that can be used in a variety of ways to manage and grow your business.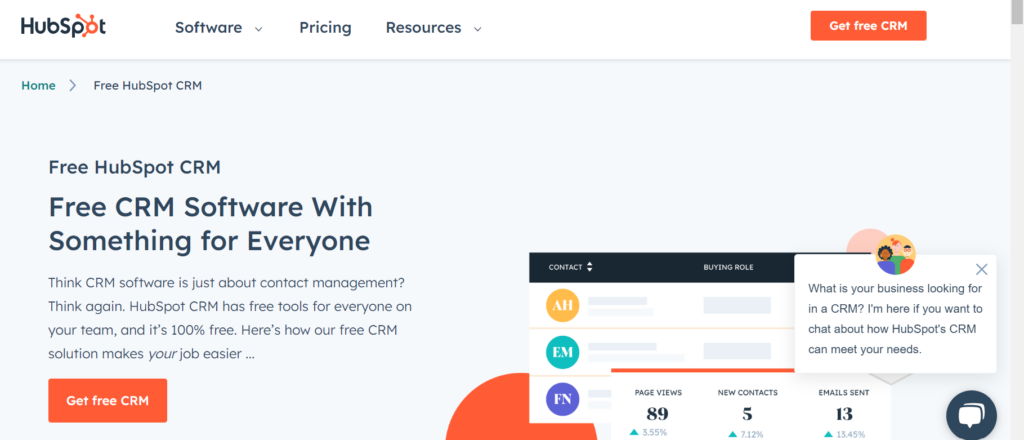 Pricing– Start your free trial
Use case– As an SDR, you are responsible for generating leads and nurturing them through the sales funnel.
You can store and manage all customer and prospect data in one place, including their contact information, company details, lead status, and communication history.
You'll be able to manage your leads effectively by assigning them to different stages based on where they are in the sales funnel and tracking their progress accordingly.
Your manager can manage your sales pipeline, including creating and tracking deals, managing activities, setting reminders, and monitoring the overall performance of your sales team.
Sales Engagement Tools
Apollo.io
For businesses aiming to grow deals, Apollo.io primarily seeks to identify areas where user business habits can be improved. Users are urged to identify and apply best practices that lead to the most success through data collection and analysis.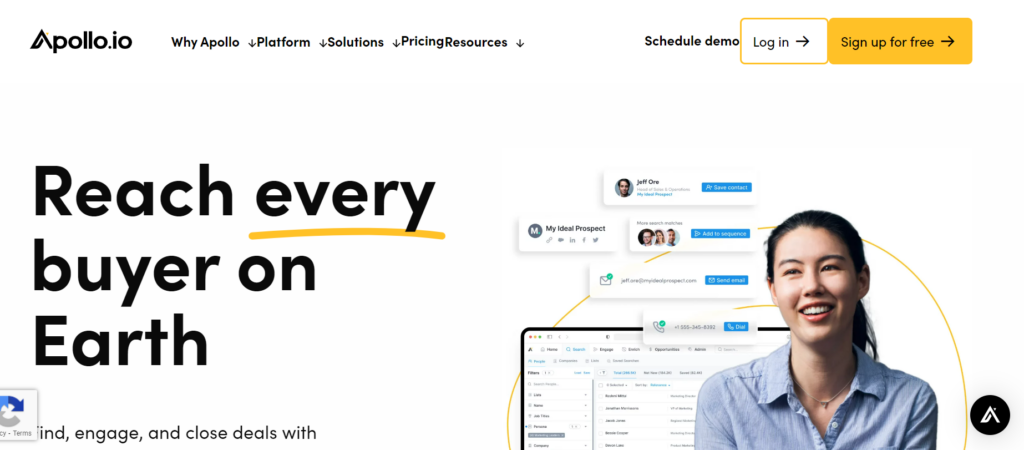 Users can search through millions of possible contacts using the prospect searcher feature on Apollo.io. Also, the product has an integration that enables LinkedIn-specific prospecting. The best leads are immediately entered into a CRM database.
Pricing– Free Trial available
Basic plan- $49
Professional plan- $99
Organization plan- $79
Use case scenario-
You can leverage its comprehensive database of business contacts and sales automation tools to streamline your sales activities, improve your productivity, and ultimately, close more deals.
The lead generation, email outreach features, etc. make it easy to manage your sales activities and track your progress
The reporting and analytics feature helps you measure your success and identify areas where you can improve.
Outreach
Deep client insights automation features provided by Outreach for prospecting will assist your SDR teams in scheduling more meetings, enhancing your pipeline, and exceeding sales targets.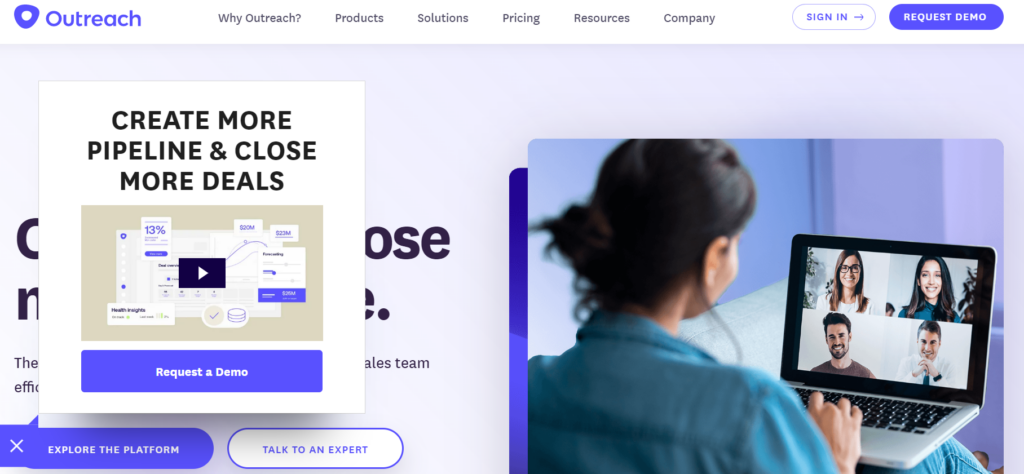 Pricing– To be requested
Use case scenario–
The platform provides you with a comprehensive view of all of your target prospects as well as useful data information.
You can use Outreach to monitor your prospecting campaign and enhance the procedure for greater impact whether cold calling or emailing is your preferred method of outreach.
Sequencer Tools (Email automation)
SendGrid
Sendgrid is an email automation tool that allows businesses to create and send emails to their customers or prospects at scale.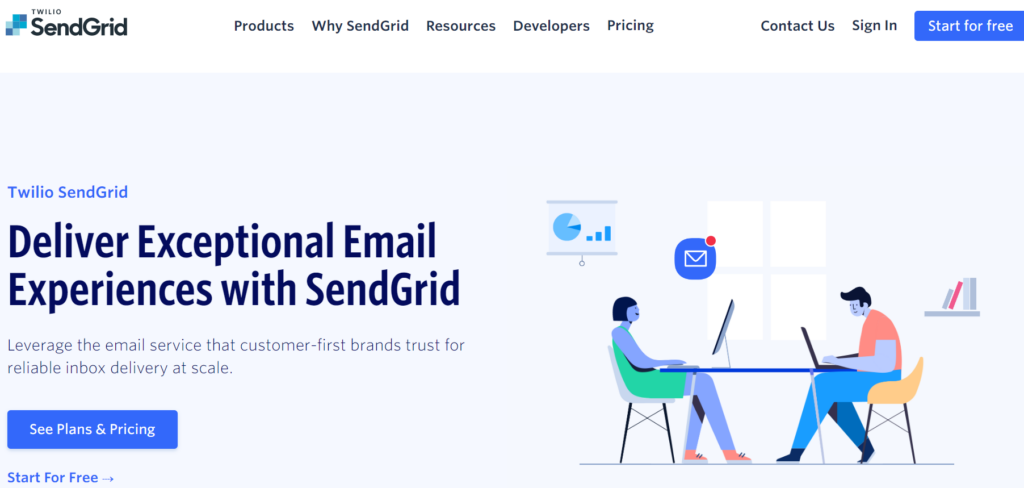 Pricing– Free trial, and Essentials plan starts at $19.95/month available.
Use case scenario–
Use Sendgrid to create and send email campaigns to your prospects, highlighting your products or services.
You can create email templates or customize your own design to match your brand.
You can set up email sequences for your prospects, which automatically follow-up with them at pre-determined intervals. This can help keep your prospects engaged and interested in your product or service.
Sendgrid's A/B testing features test different versions of your emails to see which ones perform better. This can help you optimize your email campaigns and increase your open and click-through rates.
Sendgrid offers a variety of integrations with other sales tools. This includes Salesforce and HubSpot, which can help you further streamline your sales efforts.
Mailerlite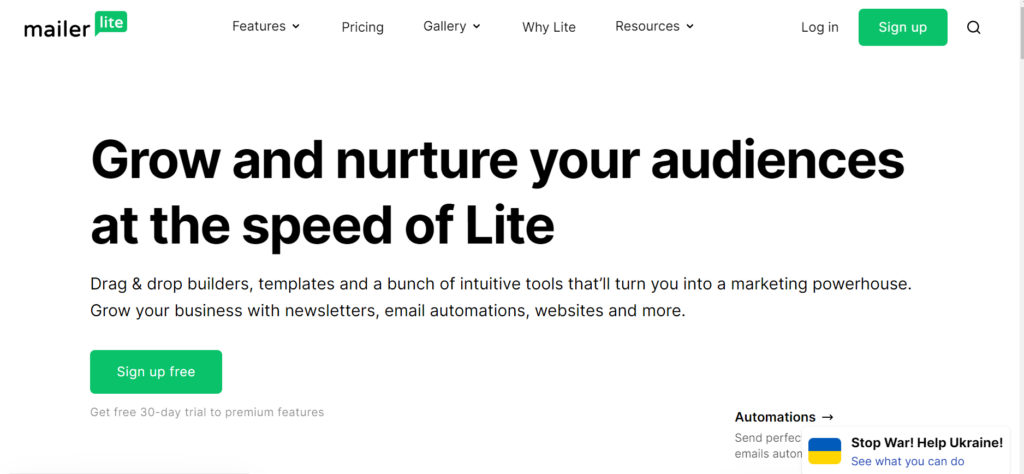 Sales Analytics & Reporting Tools
Zoho Analytics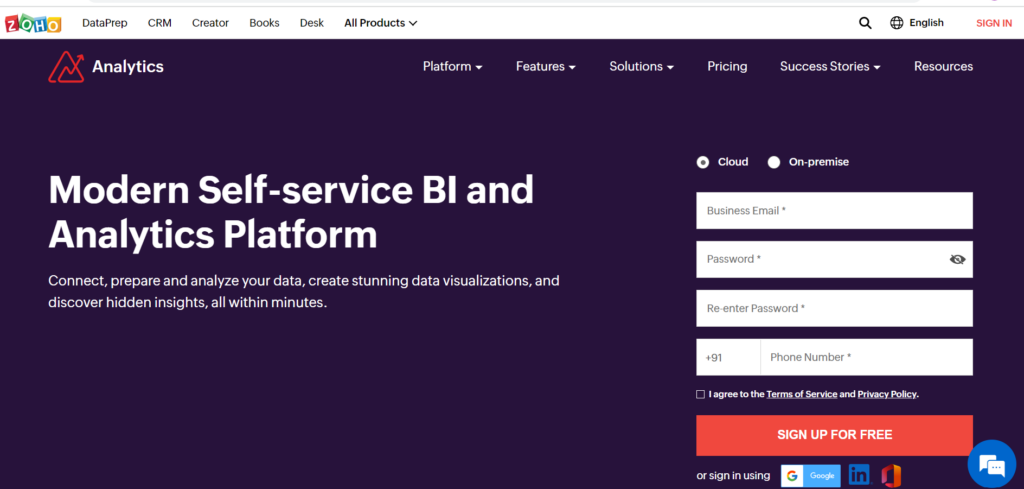 HubSpot sales hub
Appointment Scheduling Tools
Calendly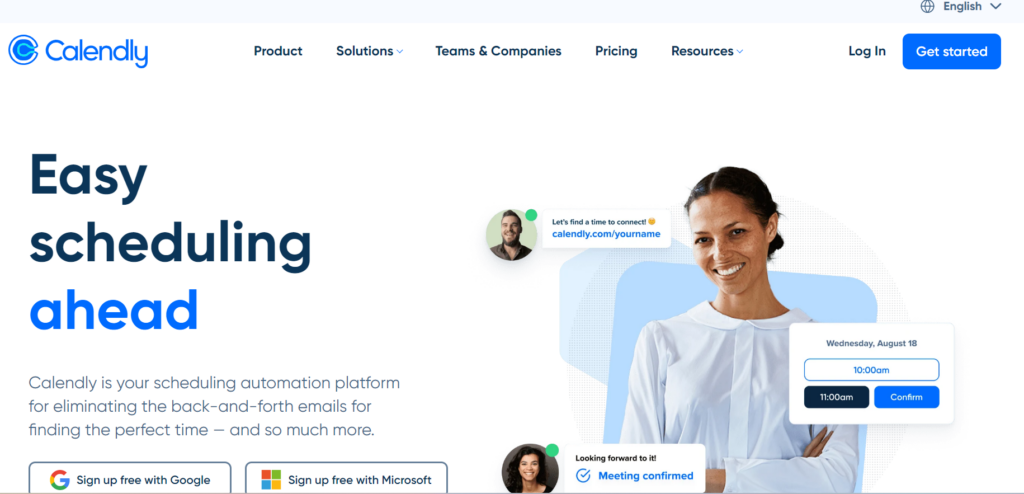 Appointy

A single SDR tool that you need (don't have to invest in 10 different tools)
What if I tell you that instead of investing in so many tools, you can invest in a single tool yet you get the efficiency of 10 tools?
Sounds unbelievable? There is such a tool- Salesgear. Salesgear is the only tool that you need for all your outbound sales activities.
Salesgear is a comprehensive sales engagement tool that helps you in finding new clients, reconnect with past contacts, and spot lucrative business prospects. It allows you to immediately collect verified email addresses and phone numbers. It provides you with 200+ data points to generate the ideal prospect lists and establishes a number of quantifiable client touchpoints.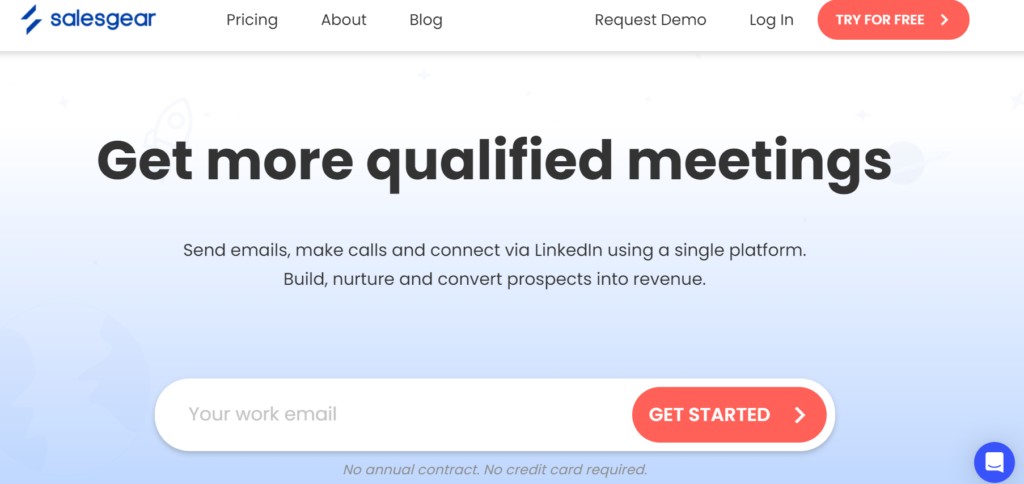 Build target contact lists: Salesgear's advanced search feature finds and targets potential leads and creates the target list based on a variety of criteria, such as industry, company size, location, and more.
Outreach Prospects: Salesgear's email sequencing feature creates customized email campaigns that engage prospects and encourage them to take action.
You can schedule and automate follow-up emails, track opens and clicks, and use email templates to save time and increase efficiency.
Call through Dialer: Use Salesgear's built-in phone system to make and track calls to prospects. You can record calls, take notes, and set reminders to follow up.
Salesgear's reporting and analytics feature generates detailed reports on your sales performance, including call and email activity, pipeline conversion rates, and more.
Schedule appointments: Without leaving the platform, you can book meetings and schedule appointments.
Final thoughts on SDR Tools
SDR tools are essential for streamlining your prospecting efforts, automating your outreach tasks, and gaining valuable insights into your sales performance. There are a variety of SDR tools available on the market today. This includes prospecting, engagement, CRM, sequencer, analytics, and appointment scheduling tools.
Each of these tools has unique features and use cases, and can be applied to different stages of the sales cycle.
By incorporating these tools into your SDR workflow, you can save time, increase efficiency, and drive more sales for your organization.
It's important to choose the right combination of tools for your specific needs and budget and to continually evaluate their effectiveness and ROI.
Ultimately, investing in SDR tools like Salesgear is a smart way to boost your productivity. You can get the functionalities of all these tools in one place.